LAURIE MILLER MUSIC
Laurie Miller - Indie Pop-Rock (Linkin Park meets Gwen Stefani), Punk (Green Day), Funk (Red Hot Chili Peppers)
Singer/Songwriter, Composer, Multi-Instrumentalist, Professional Musician (Bass Player -all styles), Producer
DAW - Pro Tools, Spitfire strings, Hans Zimmer Strings, Izotope/Ozone, etc.
+ August 2018 News: Released B-O-R-I-N-G Lyric Video (Funny - Check it out!)
+ August 2018 News: Released You're Boring (Better Lost Than Found)
+ July 2018 News: Released Lyric Video, I Like You! (XOX)
+ July 2018 News: Released B-O-R-I-N-G
+ June 2018 News: Released 'I Like You! (XOX)'
+ April 2018 News: My Song, 'I Like You! (XOX) is part of the Most Played Song on Reverbnation List!
+ My song B-O-R-I-N-G! was selected judges as a Top 5 Winner in the Rock category of the 19th Annual Great American Song Contest.
http://www.greatamericansong.com/winners.php
+ My Song 'I Like You (Reloaded) was alos a Finalist in the Rock Category


+ March, 2018 News: My Christmas song, 'One Thousand Lights' received Semi-Finalist in the Song of the Year contest-
(I wrote this song in a couple of hours, and I only had a couple of hours for production too.
Since the contest submission I've edited the lyrics and plan on adding the new Spitfire strings and fully producint the song.)
One Thousand Lights - YouTube video!
+ Licensed Music
+ Award Winning Songwriter
+Played bass for the Jimi Hendrx Guitar Competition Tour
Played bass for Goldy McJohn (Steppenwolf's keyboardist and founding member)
Played NAMM Showcases
+ Added a video with a Drone sound I created in ProTools, and video created in iMovie:
Sound Space - Drone Sound Video
+ Adding a Disco.as this month
+ In the meantime, you can hear several songs at my Reverbnation link below
+ https:www.reverbnation.com/lauriemiller
Creating Lyric Videos for all songs. Sharing soon!

Feel free to subscribe to my YouTube channel: https://www.youtube.com/user/LaurieMillerBand - and let me know if you have one, I'll do the same.
Same goes for Facebook 'Likes' : https://www.facebook.com/LaurieMillerMusic
"Imperfections are what make people and things beautiful!"
Contact: bassnlegs@aol.com
(425) 231-4019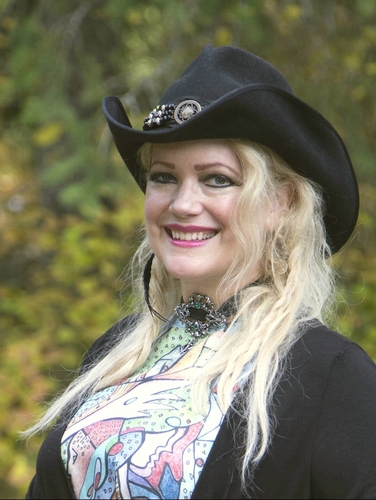 Wearing my award winning art on my dress